Disable hibernation in windows xp
Jump to navigation
Jump to search
This tutorial will explain how to disable hibernation in Windows XP.
The main benefit of disabling hibernation is freeing up hard drive space.
Disabling Windows Hibernation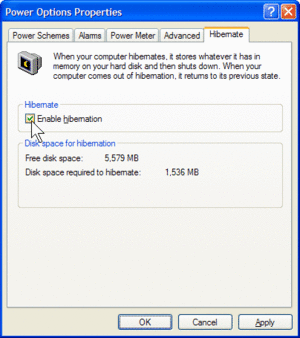 right-click the desktop and click on and click on "properties".
click the screen saver tab.
click the power settings button
in the power options properties dialog box click the hibernate tab.
uncheck the enable hibernation check box.
click OK then click OK again
Now that hibernation is disabled you may check the root directory of your hard drive to see if a file named hiberfil.sys exists. If it does can deleted, you may have to restart your computer first.
See Also